GA-GT2 Free Download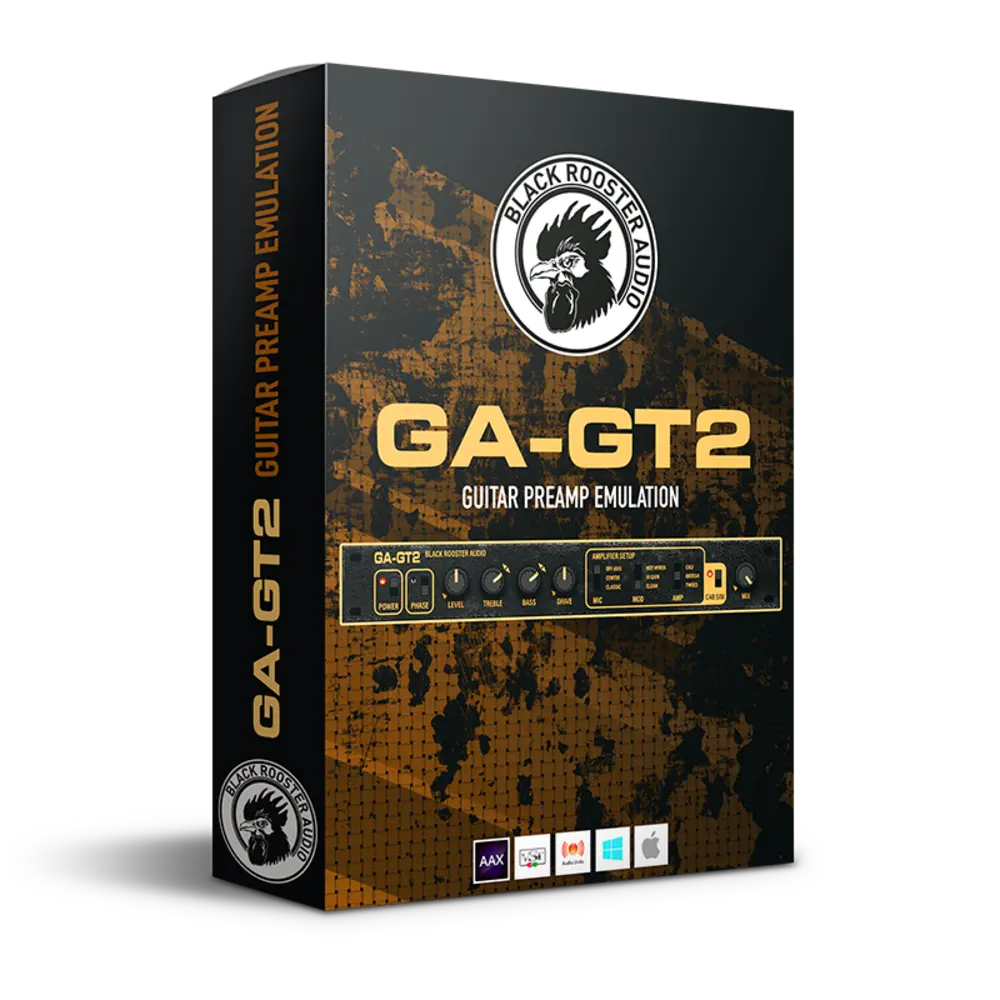 Our newest guitar preamp sim is a must-have for every producer. It's the fastest way to get the guitar, bass, or even vocal tone you're looking for – whether that's a character-filled vintage tone or full-on heavy metal distortion. This versatile unit can do it all.

The unit which inspired the GA-GT2 quickly became a favorite among guitarists of all genres, upon being introduced in 1989. It's been used by every guitar icon, from punk rockers to metalheads and country artists.
Due to its incredible versatility, it also became popular among bassists, and producers who use it to add warmth and saturation to drum and vocal tracks. The GA-GT2 sound is rooted in classic Tweet/British/Cali amps that will give you a very vintage vibe, but can easily be dialed up for more modern, overdriven tones.
The sweet-sounding pedal is known for its broad array of options, along with its ability to capture a wide range of tones.
It's one of the most durable pedals on the market, which is why it's so popular with touring musicians.
Thanks to its intuitive user interface, it's incredibly easy to use. No matter what type of guitar sound you're looking for, the GA-GT2 will help you get it!
The GA-GT2 is a powerful yet lightweight plug-in, which is available in AAX, VST, and AU versions. Its powder-coated GUI was designed as 19-inch rack unit, allowing for the vertical stacking of multiple instances on top of each other, within your DAW. Enhancing your layered guitar sound has never been more fun!
PLUG-IN FEATURES
ab Sim Bypass
This feature allows you to bypass the cabinet circuit emulation to use in front of your favorite amp plugin, just like a regular distortion pedal.
Authentic Baxandall tone control
Treble and Bass controls modify the shelving EQ in the same way as the original unit
Phase switch
This feature allows you to invert the signal to avoid phase cancellation when using the mix knob.
Mix knob
Blend the input signal with the distorted signal to get impressive results. Great for guitar tracks, but also for vocals, drums, and bass.
SSE2 & Apple Silicon optimized code
DSP operations are pipelined using SSE2 and Apple Silicon instruction sets. This ensures a high-performance operation despite its very complex computations.
HighDPI/Retina Support
The user interfaces support high pixel density on both Windows and Mac OS systems, giving you the most enjoyable user experience on high DPI displays.
System Requirements
Minimum System Requirements (MAC)
SSE2 compatible processor (Intel Core CPU recommended)
1GB of RAM
Mac OSX 10.9 or newer
VST, AU or AAX compatible host (64bit)
Display resolution of 1280×1024 pixels or higher
Minimum System Requirements (WINDOWS)
SSE2 compatible processor (Intel Core CPU recommended)
1GB of RAM
Windows 7 or newer
VST or AAX compatible host
Display resolution of 1280×1024 pixels or higher